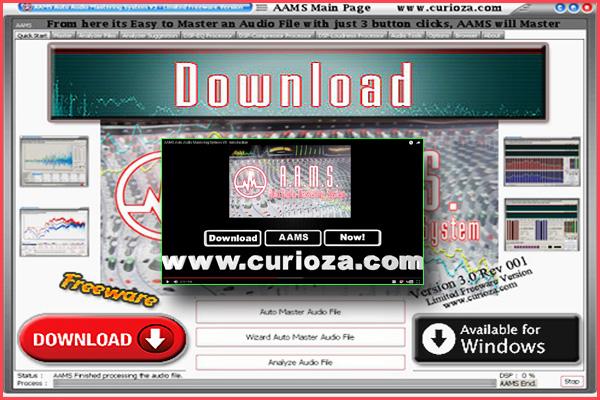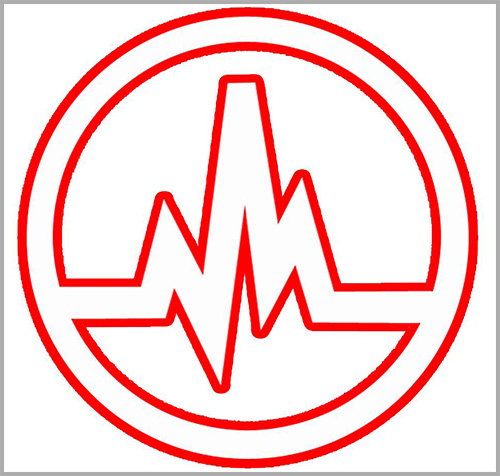 AAMS Auto Audio Mastering System V3
Main Link - Download AAMS V3.9 Rev 001
Second Link - Download AAMS V3.9 Rev 001
(AAMS V3.9 Rev 001 was released on 08 Oktober 2019!)
Information about the AAMS Software fo Windows Free Installer Package.
AAMS Auto Audio Mastering System V3 - Is installed as standard Freeware Limited Version, Upgradable with high encouragement to Register AAMS V3 Full Version. Professional options are not available in the AAMS V3 Freeware Version, but you can master as many tracks as you like. Mastering of a single track with a few easy clicks. The end result will be a fully mastered track. Be sure te read the license info inside the AAMS software or on our website.
Now you can listen what you expect!


Read the AAMS V3 Manual

Read about AAMS V3 Version Revisions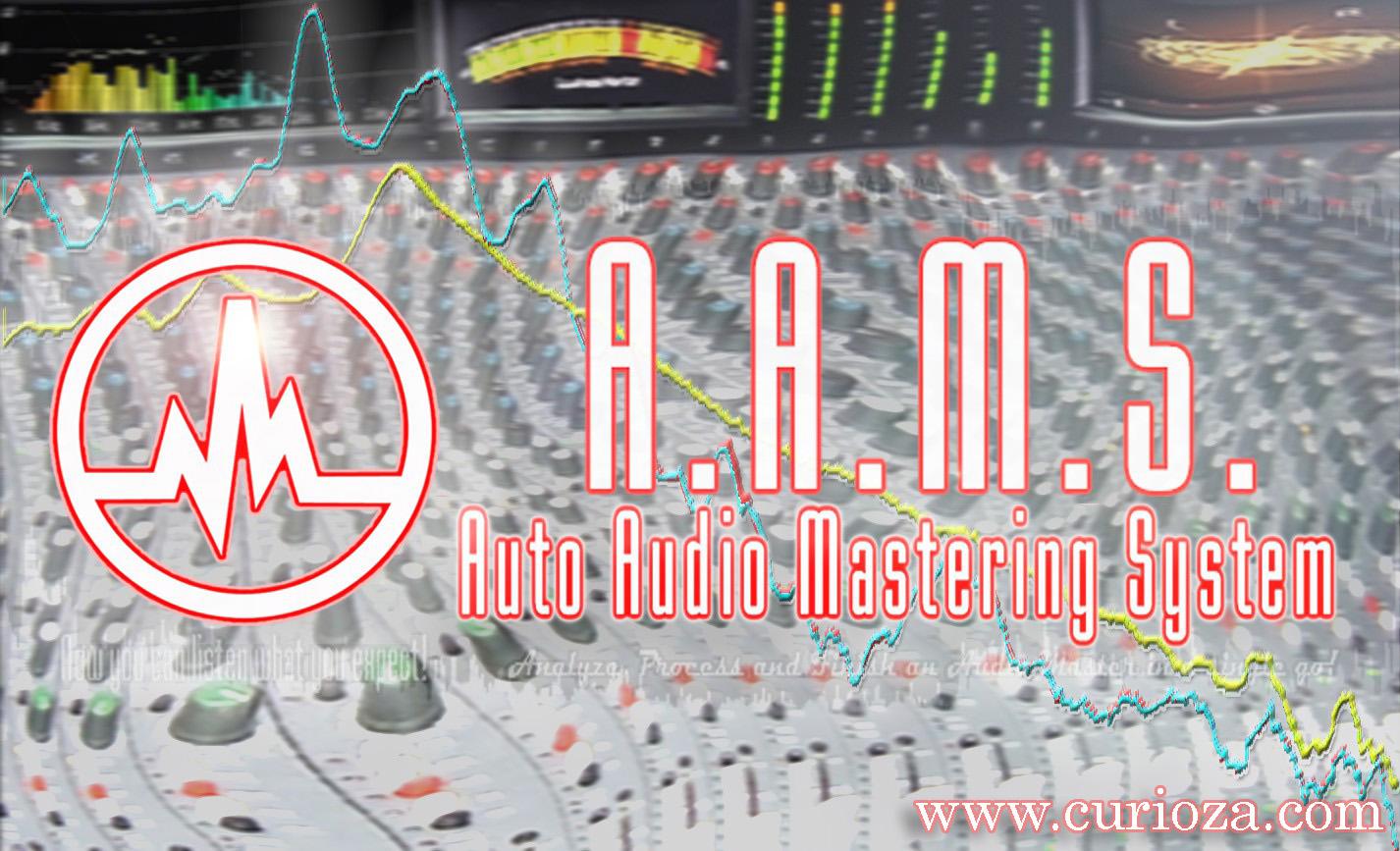 Register for the AAMS V3 Full Version.
The AAMS software is freeware, with encouragement for registration to the Full Registered Version.
You can show your support and appreciation for AAMS and future development by registering.
To make full use of the AAMS Software Package by Registration, use the Registration page.
You can also use the AAMS Contact Page and ask for an invoice, be sure to add your own email adres.
Without any blocking of professional options, a registered and licensed user can make use of all AAMS V3 Functions!


To get a AAMS V3 Keycode follow these Instructions :

Send us your Registration for a License!
You need to download AAMS (www.curioza.com) from the download page.
Then open the 'AAMS.zip' file and start 'AAMS V3 Setup.exe'.
When AAMS is fully installed, start AAMS.
Goto the - About - tab inside AAMS software to register.

(1) Fill in your username (example 'Denis van der Velde') and Copy your Username and (2) Copy the Installcode.
Send your Username (1) and Installcode (2) back to This email address is being protected from spambots. You need JavaScript enabled to view it.
We will respond to your registration and payment by email with the corresponding keycode.
You have your username and installcode and you recieved the Keycode ?
Open AAMS Software, Fill in your username (1), for instance 'Denis van der Velde'  (Example use your own Username instead).
Fill in the Keycode (3) we have send you, for instance ' AAMS-XX-XX-XXX' (Example use your own Keycode instead).
Use the ' Registration' (4) button in the AAMS software About tab and follow instructions.
You are now a Registered and Full Professional AAMS user!
When you need a Keycode or need to Register AAMS V3 ?
Fill in the Contact Form.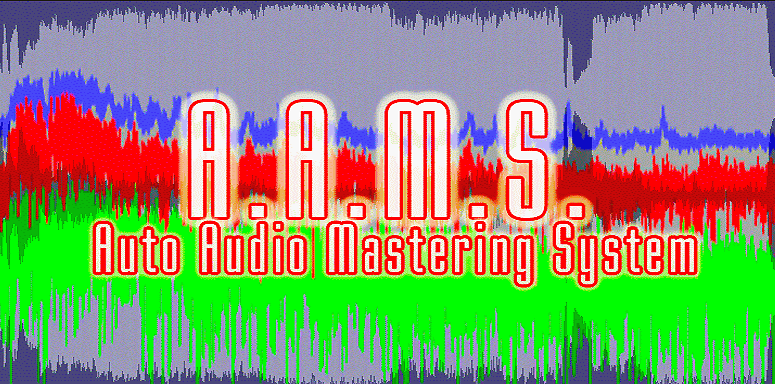 Download and install AAMS V3
Download AAMS V3 from above links, the AAMS.zip file will be placed into your Windows Download folder or onto your Windows Desktop. Open AAMS.zip by double clicking. You can now start AAMS V3 Setup.exe by double clicking. Finish AAMS V3 Setup as instructed by AAMS installer (that is on you continue to install AAMS on your windows computer. When installing AAMS will install files into c:\Program Files (x86)\AAMS\ directory and will create a Desktop Icon. When finished installing, AAMS will start automaticly.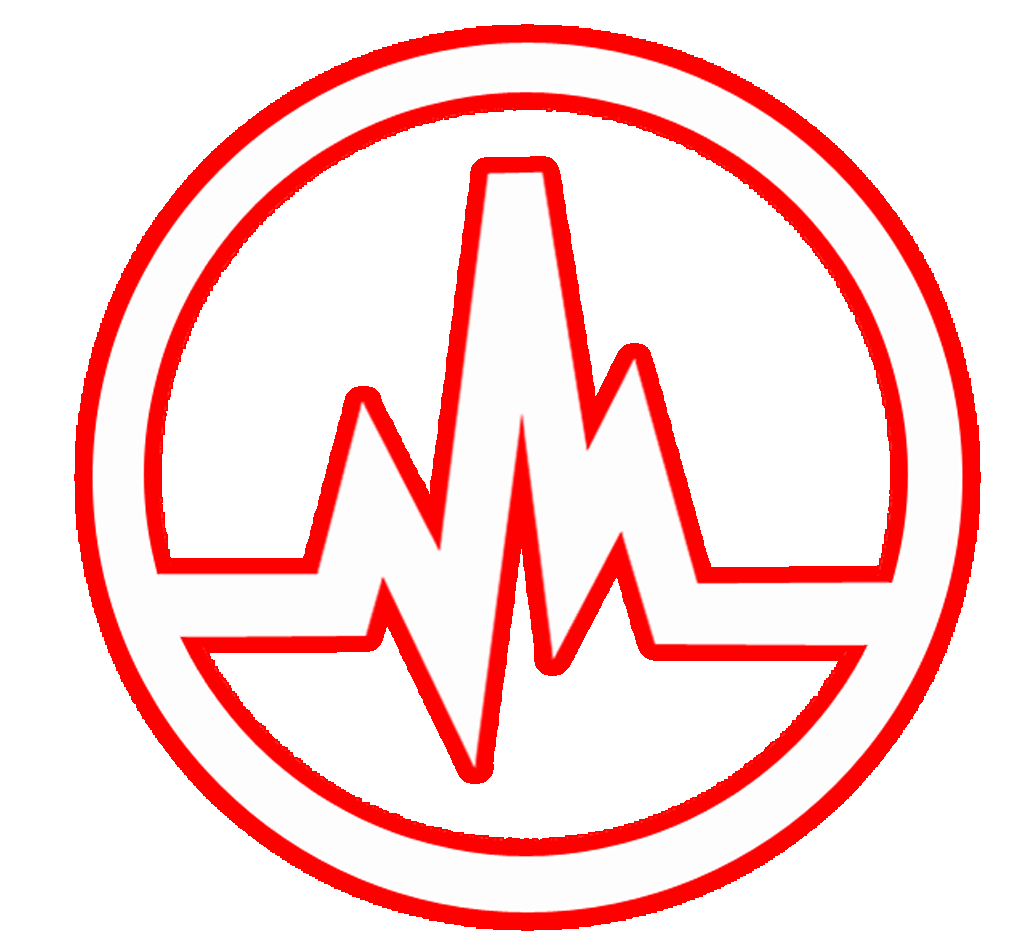 New users or unregistered users
The AAMS V3 Freeware version is free to download and use.
The following functions do apply to the freeware version :
Mastering single audio files up to 4 minutes with standard settings.
The user can analyze and master single audio files only ono by one.
The user can choose a reference file out of the Reference database Only.
Importing WAV and MP3 Audio Files into AAMS or Master Audio Files With AAMS.
DSP-EQ, 50 EQ Bands only.
DSP-Compressor, 4 Multibands only.
DSP-Loudness, AAMS measuring system only.
AAMS will only save the mastered outcome files as WAV16, WAV32 and MP3(192).
For most users this might be enough, simple one button mastering for free.
For full functionality read about the AAMS V3 Full Licensed Version.

AAMS V3 Full Registred Version
The freedom to create your own audio style (reference) out of analyzing a single file or multiple files, combining references or adjusting references. For users who like more control over the reference or the aams processing, create / adjust a reference out of the AAMS database. Spectrum Reference Adjustments possible for Mono, Left and Right spectrum of a loaded reference and saving a new reference. Or analyze commercial audio and create a reference accordingly. Therefore having full control over Creating your own style reference and creating your own sound! Over > 1 Hour mastering audio tested, intresting option for long tracks or dj-mixes. Reference Adjust, adjust the loaded reference file according to user EQ Spectrum changes, save user created reference. Adjustements possible 5Khz to 20 Khz, -12dB to 12dB in the spectrum reference range by edditing anvelopes for Mono, Left and Right spectrum. Master Batch Audio Files, master multiple audio files at a single go, this is a good function for creating your own style reference! Master Batch Analyze Files, create a new reference (or source) out of multiple analyzer files. Auto Mastering (Albums), Semi Mastering (Single), Semi Mastering (Albums), Manual Mastering (Single), Manual Mastering (Albums), features to change AAMS behavior directly (options) for Single Audio or Albums of Audio. Batch Multiple Reference(s) into One, this is a good function for creating your own style reference! Batch Mastering multiple files or albums, first each files with their own reference.
Batch Mastering multiple files or albums, with a user made album reference (option). DSP-EQ processing up to 100 Bands and full control to adjust each EQ band. DSP-Compressor, 8 band Multiband Compressor Maximum, 1 to 8 Multibands setups possible. DSP-Loudness (Balance and Loudnnes), with AAMS measuring system or dBFS measuring system. DSP-Loudness, with two measuring and correction systems, AAMS measuring system and dBFS measuring system. Able to Automatic Master, Semi-Automatic Master and Manual Mastering! AAMS Options are all available, as well as options from Analyzer, DSP-EQ, DSP-Compressor and DSP-Loudness. Printing Documents in text and as charts. Mastering outcome audio files and in between files. This means after DSP-EQ processing an audio file is saved. After DSP-Compression an audio file is saved. After DSP-Loudness Balancing an audio file is saved. After DSP-Loudness Gain an audio file is saved. This gives the user control over the mastering process. Also the AAMS Mastered audio file is saved as WAV16 WAV32 and MP3 files. Importing Wav, Wavpack,Vorbis Ogg, MP2, MP3,WMA, Apple M4a, Monkey Audio, AAC, Audio Files into AAMS or Master Audio Files With AAMS.
Get the AAMS V3 Full Registered Version for Licensed Users!

Virus and Malware Free!
AAMS.zip and AAMS Setup/Installer has been found virus free by testing with renowd virus scanners and malware scanners. Be sure to download AAMS V3 from our website!
Avira
BitDefender Antivirus Free Edition
AVAST Software
AVG Technologies
Emsisoft Antimalware
Hitman Pro
Kaspersky Lab
McAfee
Microsoft Malicious Software Removal Tool
Microsoft Defender
Malwarebytes Antimalware
Norton Anitivrus
Panda Security
SpyBot Search & Destroy
Symantec
Trend Mirco
Zone Labbs
Zemana Antimalware

AAMS Auto Audio Mastering System V3
AAMS V3.x is freeware to Download, with high encouragement to Register.
Registration ensures users to have all functions and options opened, having full control! 
The price of AAMS V3 Registered (Pro) is 65 Euro or about 75 Dollars.

 Pay with a Bank or Credit Card with PayPal 

Pay with a Bank or Credit Card with PayPro

Fill in our Contact form for Registrations or Questions. Or go to our Shop!

AAMS Auto Audio Mastering System
The license and keycode are for all versions of AAMS V3 and upcoming V3.x versions.
User Registration is needed for administration purposes only and offcourse to open all professional features of AAMS Software.
We do not use your user information for other purposes but to keep track of the license system, read our license agreement.
A single registration license grants you acces to all professional functions with a single AAMS V3.x version installed on one single computer you retrieved the installcode from.
So be sure you have AAMS software installed on the computer you need the License for, wise the given Keycode will only work for that computer.
Just understand when you buy for the first time a registration license and pay 65 Euro's for a AAMS V3 single computer licence, you are a registred and licensed user. 
And when you send in the installcode, you will get an email with the corresponding keycode.
With this AAMS V3 registration as a user, you can register each extra copy on another computer of AAMS V3 software later on at a half price discount.
For AAMS V1 or AAMS V2 users there is a special Upgrade half price discount available towards all AAMS V3.x versions.
Please allow a maximum of 48 hours for us do our adminstration and send you the correct Keycode back.
To get send a invoice or have any questions, you can send an email or use the AAMS Contact Form below this website.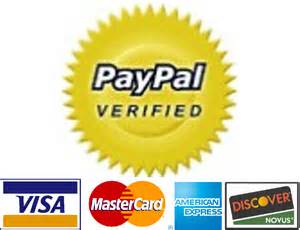 If you want to install AAMS V3.x version to another computer, you will get a different installcode.
Therefore the combination of installcode and keycodes given, are unique!
Each computer you install AAMS needs a seperate Full Registration License applied.
Therefore you can register a license for AAMS V3.x version for each single computer and it's installcode / keycode.
Every other computer (you have 2 or more computers) as a registered user there is a half price discount.
Because as a registred user can have one or more licenses at cheaper rates, but not the first license. 
For AAMS V1 or AAMS V2 users there is a special Upgrade half price discount available towards all AAMS V3.x versions.
Use our contact form for any keycode or license questions.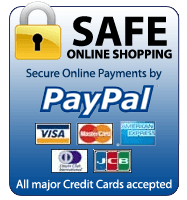 With PayPal, you're protected from checkout to delivery.
You can pay with your Credit card or with your Paypal account.
We spot problems before they happen with the latest anti-fraud technology.
Your financial info is never given away to sellers. 
And if something goes wrong with your order, the order will be cancelled right away.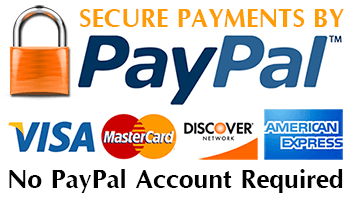 Safe and easy online payment
With PayPro you can easily pay your customers. Furthermore, we would like to make it even easier with extra modules, links and plugins.
Guaranteed safe
The security of your money and the data of your customer are central to PayPro. We do not have a license from De Nederlandsche Bank and Currence for nothing. Moreover, our requirements go beyond all standard standards.
That is why you use PayPro
Your payments at PayPro go quickly, easily and safely.
Fraud prevention
We keep an eye on everything and constantly check what happens. Suspicious customers, IBANs and IP addresses are tracked to exclude risks.
AAMS Contact Form

*For Paypal Payments please allow some time for processing your payment, this can take up to a few hours for Paypal to process your payment.
After Payment you can directly pass your Username and Installcode, read for exact infomation to register AAMS by reading registration details or the registration page)
User Review 124
To Whom It May Concern, this is my personal recommendation for AAMS V3.
I have been using and testing AAMS V3 to be consistently pleasant.
AAMS V3 takes charge and is creative and communicates the benefits.
AAMS V3 will result in increased revenue, increase in profits.
AAMS V3 is an asset to your efforts, also extraordinarily helpful in all audio areas.
AAMS V3 has a leadership role in audio mastering, inspiring and motivating all users and testers.
I highly recommend AAMS V3, a team player and makes a great asset to anyone working with audio.
Shannon Demar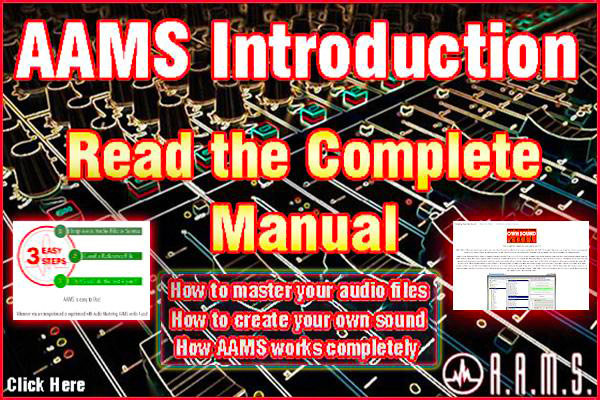 ->> AAMS V3 - Introduction Manual <<--
Here you can find and read all information about AAMS. In the First Start section you can read how easy it is to audio master your audio tracks with AAMS! How to create your own Sound! All with just a few button clicks. Now you can listen what you expect!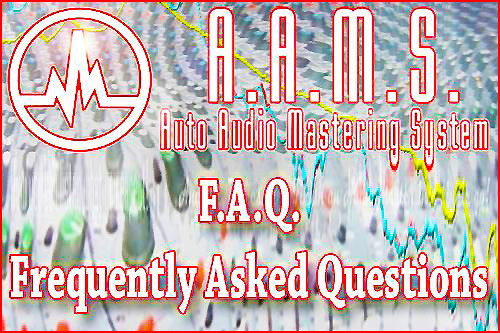 AAMS V3 - Frequently Asked Questions
 Answers and general information about AAMS Auto Audio Mastering System V3. A lot of questions are answered. How AAMS works ? AAMS Analyzer and what can the user tweak the settings of AAMS ? Manual Mastering possible ? How does AAMS work ?